What Is a Buyer Journey?
The Buyer Journey is the buying process that a buyer takes from experiencing a problem they need to solve, to completing the purchase of the solution to the problem.
If you were to ask a friend who just watched a movie, how it went. You would likely hear the highlights of what they saw. They will never give you the minute-by-minute action.
Just as a person shares highlights of a movie, buyers have highlights in their purchasing story.
If you can understand them and map them out better than your competitors you will be well on your way to getting more customers.
Once you understand the Buyer Journey, you will be able to effectively create its cousin, the Buyer's Journey Map.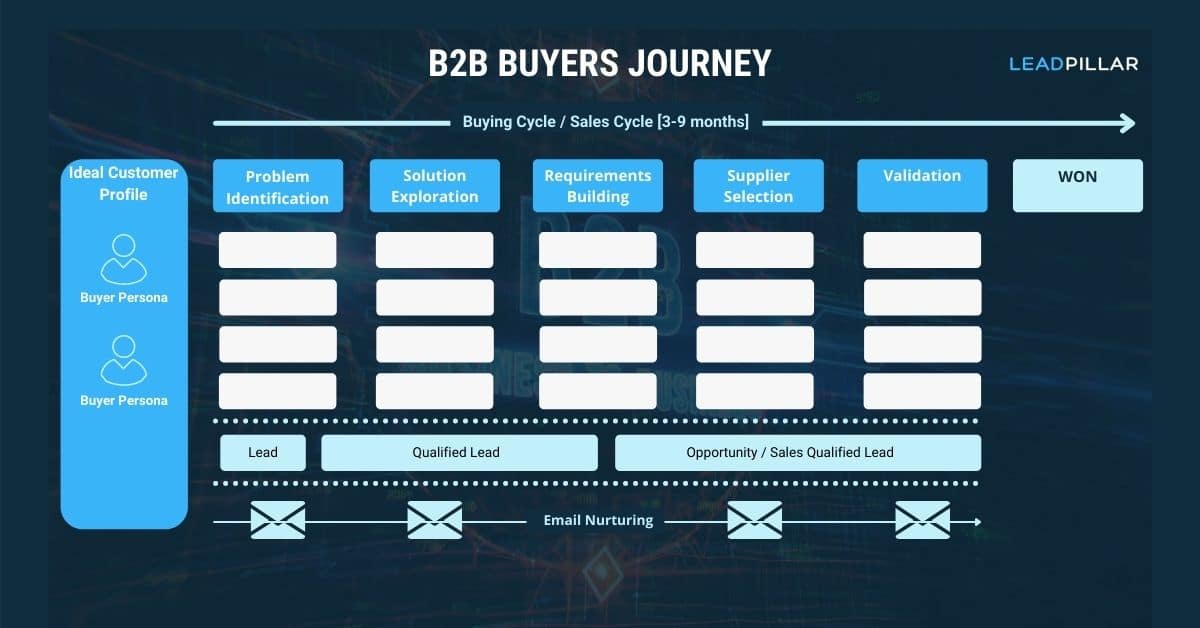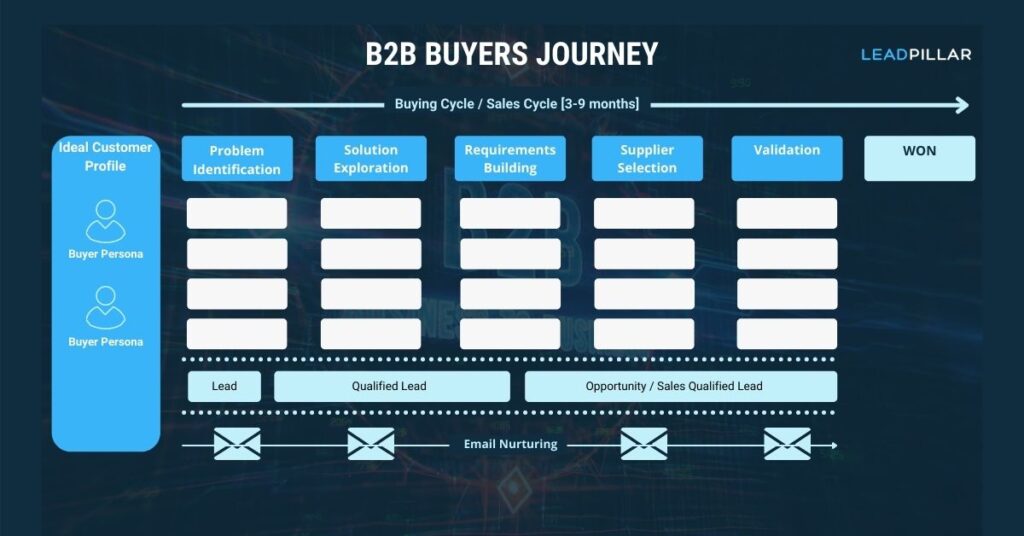 What is a b2b buyers journey map?
The Buyer's Journey Map is a visual representation of the general buying journey stages a buyer goes through when making the decisions on their needs, best fit solution, vendor and price and completing their purchase.
The Buyer's Journey Map is a key marketing asset used over and over to turn strangers into customers.
Why do you need a Buyer's Journey Map?
It's an unfortunate truth that a buyer will start their purchase journey without consulting vendors first. Gartner notes that about 77% of buyers start their journey on their own.
This could put vendors at a disadvantage as the Customer's Buying Journey is more of a zig-zag than a straight line. There are several stages a buyer will go through along the way. Each stage will usually require different stakeholders and information will be needed along the way.
In order to "leapfrog" the customer and take control of the buying experience, the vendor needs to understand the buying experience better than the customer.
The Buyer's Journey Map is the tool that allows you to visualize the customer buying experience and understand it better than they do. It will help you understand the exact information your buyer is looking for so you can create the content they need to move forward.
Benefits of a Buyer's Journey Map
Profound insight
For many of us, it's common to think of ourselves and our company first. The Buyer Journey is a tool that allows us to shift to the customer first. With this shift, we can gain profound insight and understanding of the struggles your ICP is experiencing. We can see the size, importance, and priority of buyer struggles.
Understand stakeholders
In most business-to-business purchases, there are more than one decision-makers within the organization and the Buyer's Journey Map illustrates these key players. Each buyer represents needs that are part of the final purchase criteria. These stakeholders join at various stages of the purchase cycle and influence the purchase decisions.
Modularity
The Buyer's Journey Map helps break down the customer's perspective of the purchase process. And, gives you an opportunity to optimize at each stage or step.
Benefits sales
With a well-thought-out Buyer's Journey Map, you will have the visibility and confidence to know exactly how to guide your prospects through their buying journey and they will profoundly appreciate the much-needed guidance.
Additionally, marketing will dovetail smoothly into sales. This allows the company to shorten its sales cycle and efficiently utilize its time.
Appears autonomous
When a buyer is on the Buyer's Journey Map it provides him or her with the illusion of control. Each step is choreographed and modeled from similar companies' experiences. This makes their purchase appear to be on their own unique journey.
Tangible and visual
Because it's visual, it can be used to hold meetings and consult with other employees in your company. And the team will have a blueprint to share as they onboard new team members in marketing, sales, and customer service.
Simplifies content creation
Finally, the Buyer Journey is the map to creating and implementing content for ideal clients. With a well-designed Customer Buying Journey, you will only create content that is valuable and results in a sale.
In fact, it's our firm belief that this process is so important that it must be performed before creating your content, videos, worksheets, etc.
When you don't do this, it leaves the opportunity to second-guess everything including what is valuable to your ICP.
Who should be involved in creating the Buyer's Journey Map?
When we create a Buyer's Journey Map plan on involving the following people:
Current customers that fit the Ideal Customer Profile
Sales Leaders and Sales Representatives
Customer Service
Product teams
Marketing
Other key stakeholders
Is The Buyer's Journey linear?
No, it is not but it helps understand the stages, what buyers are struggling with, the content and guidance you should provide and a path that helps make it "easy" for the buyer, a general buyer's journey. The buyer will jump back and forth between stages and content in the buyer journey and that is fine.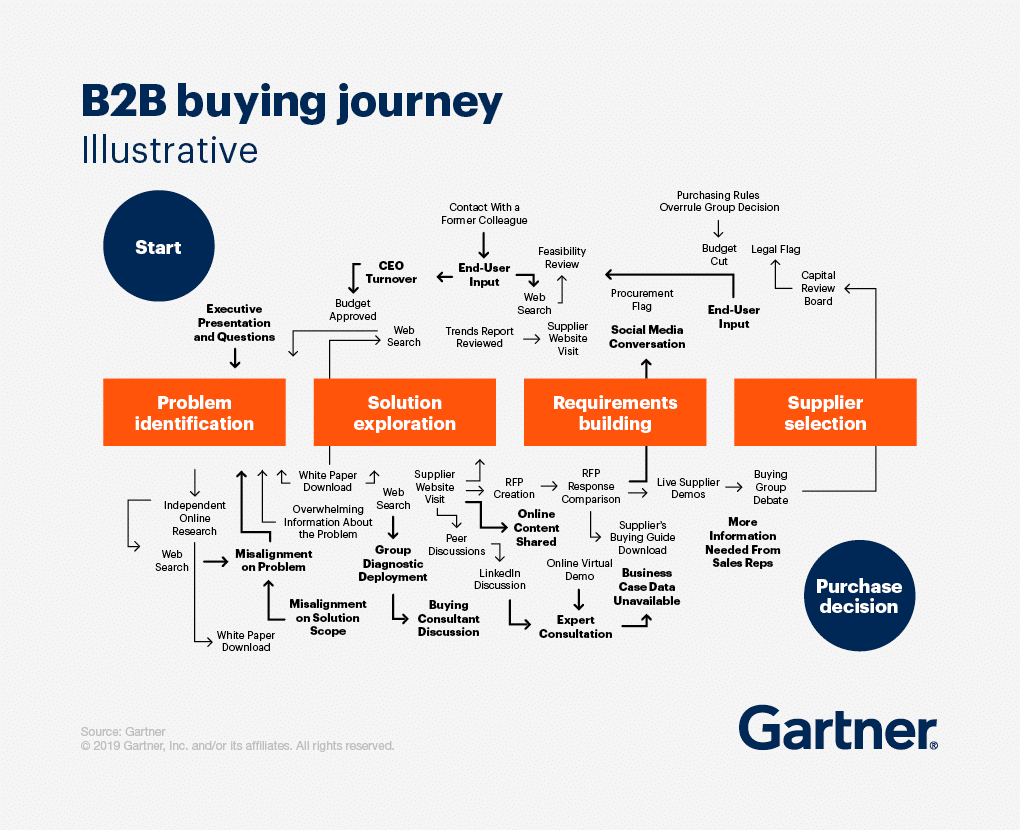 Most often a buyer is triggered to look for a solution to a problem they experience but not sure what the solution to the problem is. So they start researching either the problem or solution options, they may reach out to a current vendor or someone in their network. As they are not experienced in buying this service or product, they don't know yet, what the path looks like. Providing a clear buyer's journey, is how you can help them make buying easy and become the trusted advisor.
How to create a Buyer's Journey Map?
When you are ready to create your Buyer's Journey Map the process is straightforward. It should not take more than three weeks to complete.
Ideal customer profile & buyer persona
First, you interview your ideal clients. In these interviews, you will discover what their buying journey was like. You'll use their experience to create the structure of the Buyer's Journey Map. When interviewing clients, we have an excellent resource here (link to lead magnet) with example questions and content.
Buyer journey content mapping
Second, you'll create a list of content or a Content Map to show you what pieces of content to create for each stage of the buyers journey:
Problem Identification
Solution Exploration
Requirements Building
Supplier Selection
Validation / justification
Finally, you'll take that information and create the actual Buyer's Journey Map.