You are looking for guidance on how to turn your website into a lead generation engine for your commercial cleaning company. We know a a fair bit about SEO for cleaning companies, and you are here, so we succeeded .
We have done lead generation and SEO for commercial cleaning companies for more than 5 years, and SEO for manufacturing, food tours, and SaaS, for more than 10 years. In this article we will share the main success factors for getting leads from your website.
SEO for commercial cleaning companies is hard and dominated by national cleaning franchises like ServiceMasterClean, JanKing, JanPro. So if you are trying to find a way around them, please don't hesitate to reach out. I'll be happy to share.
What Is SEO?
SEO, aka Search Engine Optimization, is the term used for optimizing website content for search engines like Google and BING. More specifically it is the optimization of specific piece of content that provide the best answer to a specific search engine user's search query. The SEO optimization elements include use of related keywords, in order to provide a "complete" answer, often supported by illustrations, images, and videos.
Why Most Websites Don't Get Any Organic Traffic
Most cleaning business websites, and businesses in general, are not getting any traffic from search engines. In fact, 90% of the world's websites are NOT getting any traffic from search engines. The main reason is that most businesses create a website that looks pretty and to communicate what THEY want to communicate about their cleaning business, rather than content that answers popular search terms.
That is NOT how it works when you want to get traffic from search engines but it is very understandable as it is not easy, and competing against national cleaning companies is very hard.
When you read blog posts that suggest you should "start blogging" … STOP.
You are about to head down the road with 90% others who are wasting their time on creating content that no one will ever see, which will not generate any leads, leave you frustrated, and eventually feel that "this will never work".
What is true for any new project we embark on, finding quick successes is essential for keeping motivation up by creating results in the short to mid term, no matter how small.
Content Quality Over Beauty
Search engines have a clear purpose, to find the information that a person is looking for. Without a search engine it would be impossible to find information, websites, and information on "SEO for cleaning companies".
So rather than start creating a cleaning company website based on how pretty it should be, you need to first find out what popular search phrases YOUR perfect-fit-customers are using when they are "researching", "considering", and "deciding" on a cleaning company.
How To Optimize Your Cleaning Website For Organic Traffic
SEO for commercial cleaning companies is hard and dominated by national cleaning franchises like ServiceMasterClean, JanKing, JanPro. So if you are trying to find a way around them, please don't hesitate to reach out. I'll be happy to share.
SEO Tools That You Will Need
Keyword research is absolutely necessary if you are to succeed getting organic traffic from your website. To do keyword research you will need a tool that will help you understand what the popular search terms are, that you should be using.
When selecting keywords it's important to select keywords with low competition, when possible, and pick the ones that have some commercial intent, so you are not just creating content for entertainment purposes.
SEO tools that we use:
For keyword research and for monitoring progress in ranking position of keywords and content, we use:
The SEO tools are great for monitoring and improve search rankings, if the page is ranking for the keyword, as intended, but you can also just use Google Search Console and set up your SEO reporting in Google Data Studio.


Google Search Console, which is free, will show you the keywords, keyword position, impressions etc. for the keywords that you do rank for, but not how you are doing on keywords that you are targeting but not yet rank for.
Using Google Adword Keyword Planner can deliver a good part of the keyword ideas, based on a keyword that you enter, but it is not a SEO tool and will not guide you in content creation or monitor the progress in search engine ranking.
So if the time you plan to spend on creating a website or blog content for the purpose of getting search engine traffic, then there should be no doubt that you should sign up for a SEO tool, plus start following a SEO guru like Brian Dean at Backlinko.
How to find you keywords
For cleaning companies there are two main categories of keywords: local keywords and non-local keywords, local keywords, and other keywords.
First I would recommend that you orient yourself and get an overview of what people are searching for in your space. "Answer The Public" is a great website that helps you get just that. Try it out, just enter a general keyword like "commercial cleaning" and find out what people search for in that space.
What you will not get, is a clear indication if a keyword is a local keyword or not.
Keywords for local searches
Entering the keyword is a Google search will tell you if it is a local search keyword. If you enter "floor cleaning" you will see a list of local businesses in the area you are located, so now you know it is a local keyword that you would like your cleaning business to show up for.
This is of course a bit manual, but SEMrush will provide all this data for each keyword, automatically, which is a great timesaver.
There are variations of the local keywords in both kind, monthly search volume, and local competition, but there is no way around it, the local keywords are limited and you have to include them.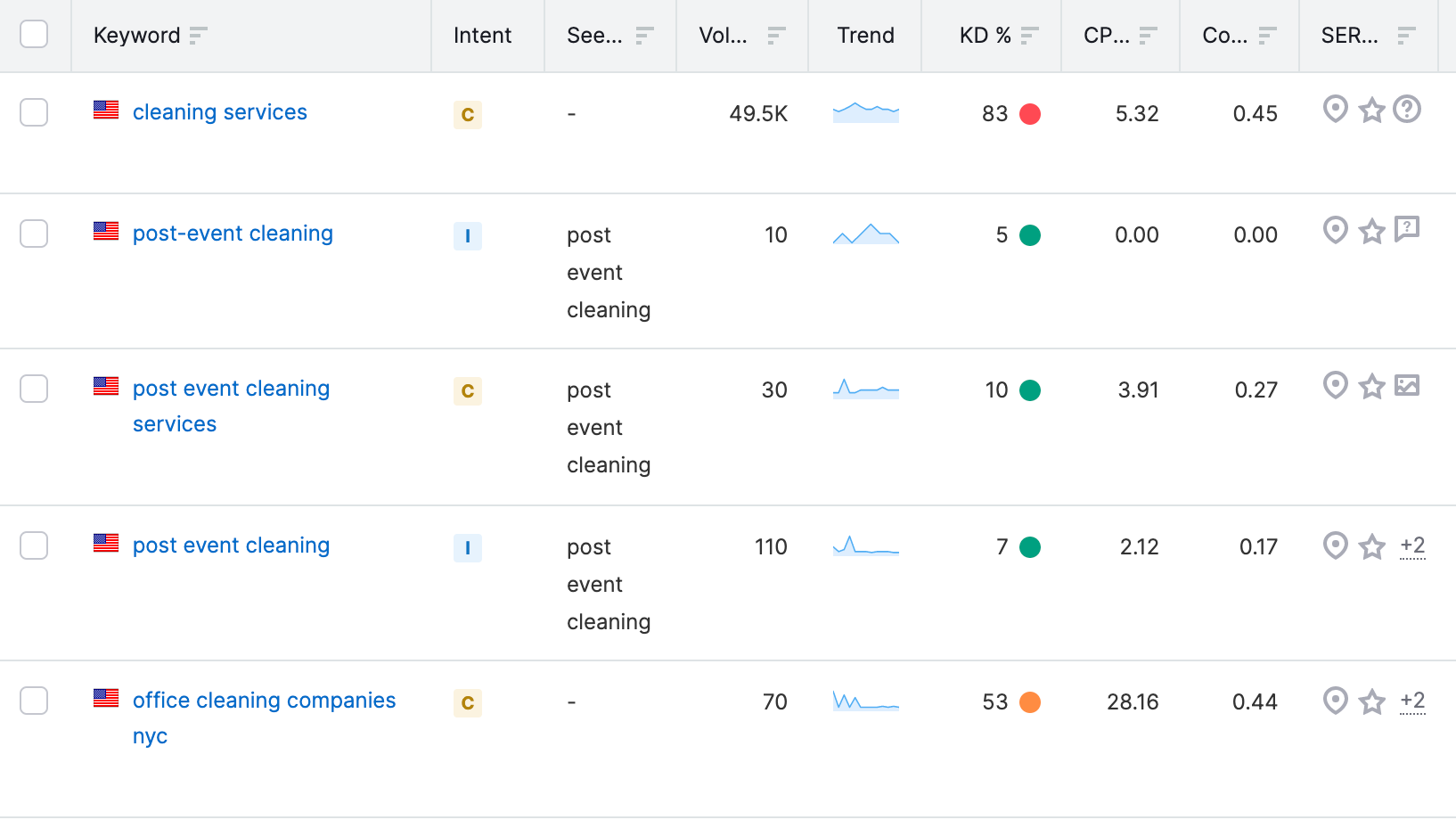 Hint:
In Google Adwords "keyword planner", you need to create an account if you don't already have one, before you can start mining for keywords. Once you have an account you can add your location and then keywords like "janitorial services", "commercial cleaning services", "floor cleaning" etc. and the keyword planner will help you find similar, and related keywords.
Other keywords (keyword topics)
Other keywords are non-local keywords which means you will be competing with any "english" website. These keywords can be like "commercial cleaning guide", "school cleaning checklist", or "what is the difference between sanitizing and disinfecting?". In this case it is important to find "opportunities" of long tail keywords, with low competition. In SEO tools like Ahref and SEMrush, all the information on "search intent", "search volume", "competition", "avrg CPC" etc is available for each keyword, and easy to sort, filter, export. This helps save a lot of time, compared to using Google Keyword Planner, and Google Search Console.
Why Make Content For Long Tail Keywords?
In general you want to make long-tail keyword content, because
You want to show prospects and search engines that you are a "Commercial Cleaning Company" and therefor they should consider your cleaning business' services / content in related search results.
You also want to create great content to visitors on your "Cleaning Business" website, to help differentiate your self and e.g. guide the prospect on their buying journey towards selecting the right cleaning company … your cleaning business.
When creating content, always research the content that search engines rank as the top 1-10 organic results, and make sure yours is better. The world does not need more content, but better content. Most content is clearly made for search engines and not by experts, so use your expertise to create great content in a personal tone.
Hint: Stock images on a website is not going to help much to beat the competition, and a visitor can recognize stock images after visiting 5-10 cleaning websites. Showing your self and your team in cleaning situations, plus a video, will go along way. Visitors will see you, and at least know some of the people behind you cleaning business, and it will help convert more prospects from visitors to prospects and walk-throughs.
Examples of long tail keywords
Below you will see and example of long tail keywords that are excellent topic to write on, if you think this is information your target audience is looking for.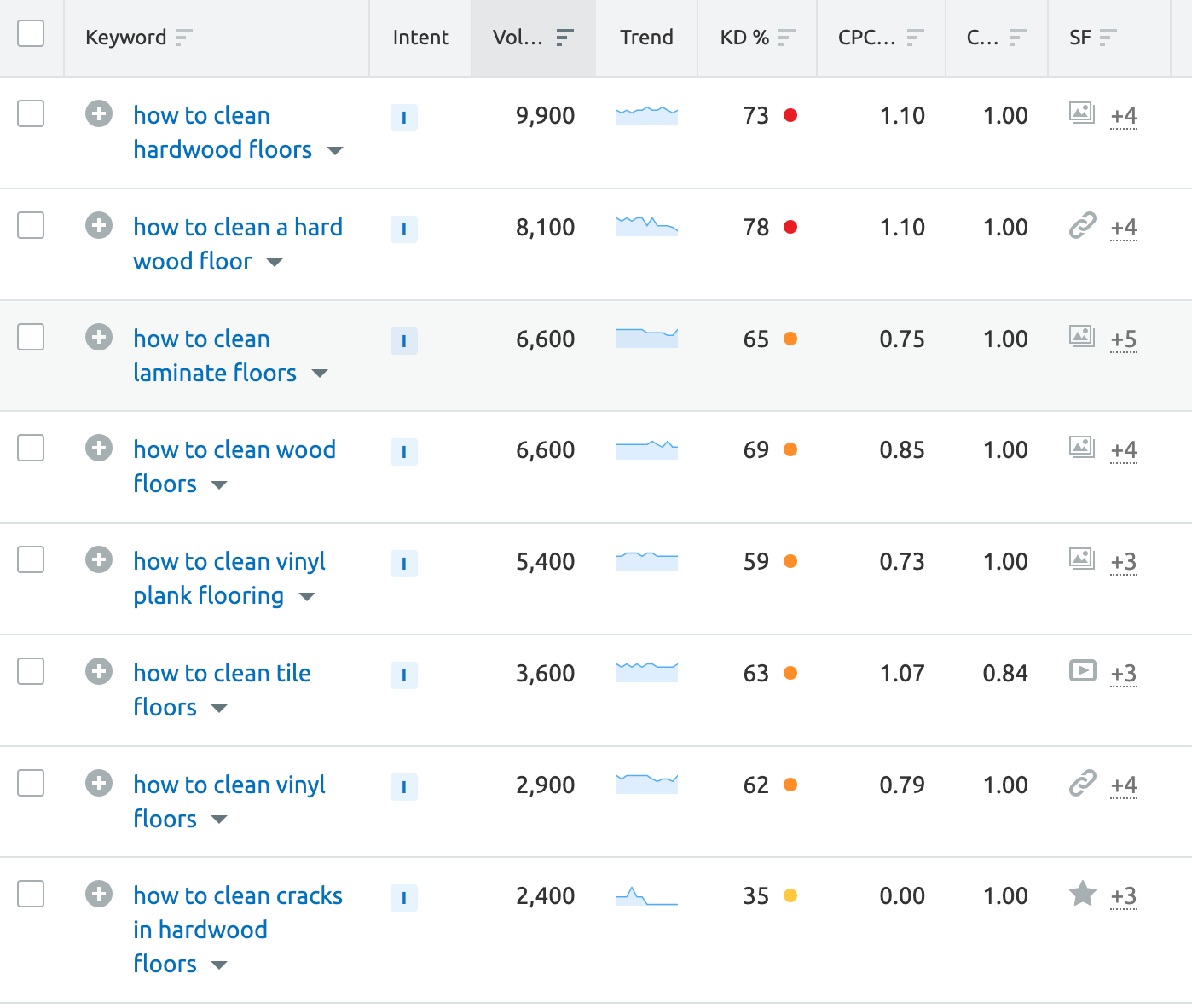 Decide on the keywords you want to focus on
Before you can create a content map (keyword map), you need to settle on the specific service pages and associated keyword (singular) per page.
Keyword Topics For Your Cleaning Business
Keyword topic is a cluster of keywords that related to the same topic, similar to when you go to the library and look for book titles in a certain category or genre.
As an example your TOPIC keyword/page could be "Commercial Cleaning" and then associated keywords/service pages could be "Office Cleaning", "Floor Cleaning" etc. The associated services/keywords must have their own page as "Commercial Cleaning" includes all the other services, in order to be considered "complete content". Do not stuff a bunch of services on to the same page, it will never rank, and only vaguely describe you services to a poor visitor.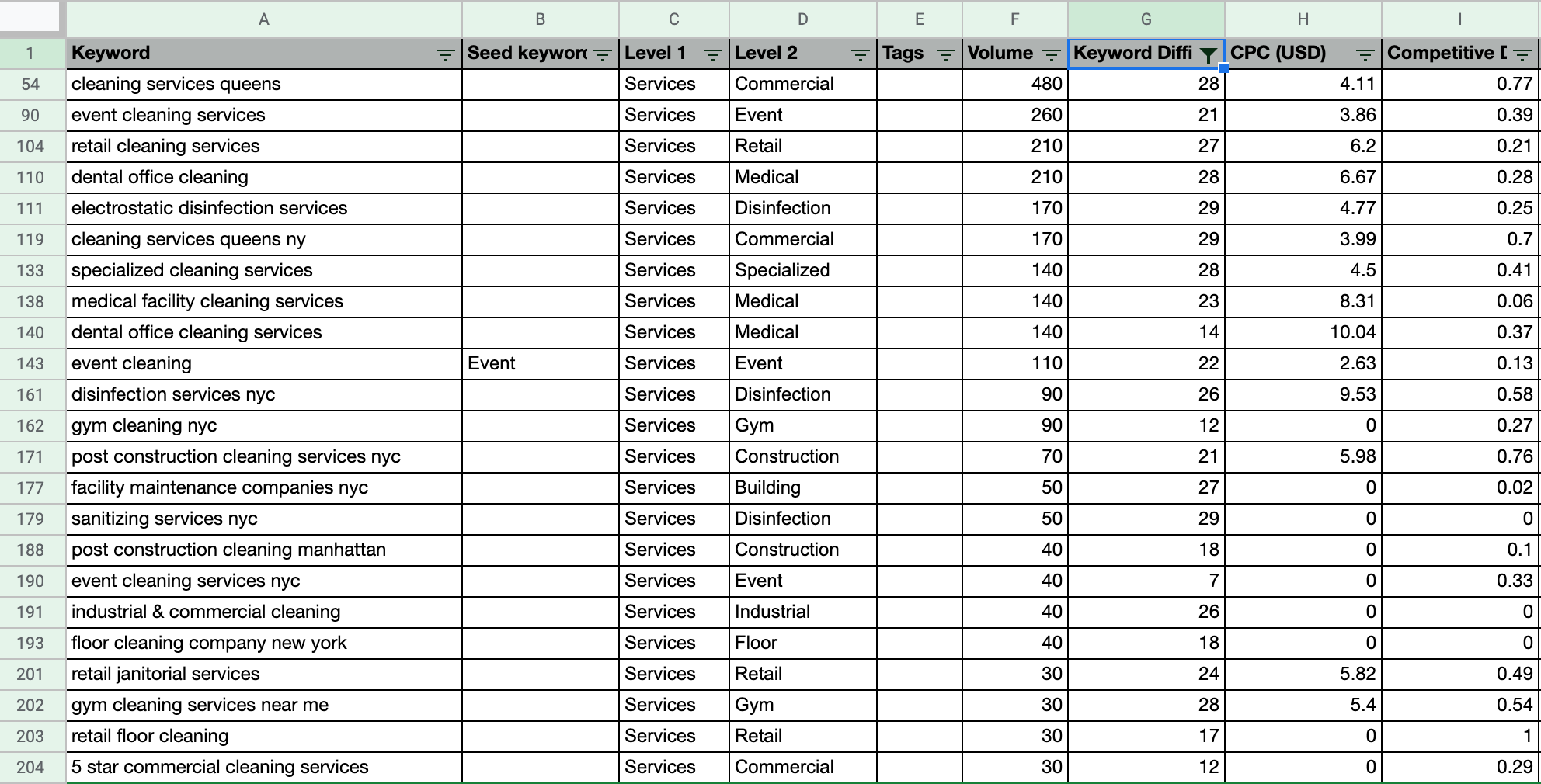 This will take time, a lot of writing to create the best content available, and a lot of patience … as Gary Venertuck says: "Be patient with the results, not your activity and actions".
NOTE: We have seen hundreds of cleaning business websites that has one "service" page where all cleaning services are mentioned, which will NEVER rank for anything. A specific service page must be at least 1.500 to 2.000 words in order for search engines to be able to "understand" what the page is about and consider it for ranking, and to compete with top ranking cleaning pages.
If your website is created in WordPress, you should install a free version of Yoast SEO plugin to help guide you in content search engine optimization. It will enable you to easily change the title and meta description of all your pages.
Create a map of content and associated keywords
A keyword-map, or content map, is the structure of content and pages that will be used to create the website. It will consist of a "home" page, which should not rank for anything, an about-us page that should rank for your cleaning business name and you main service and associated services, targeting each their own keyword.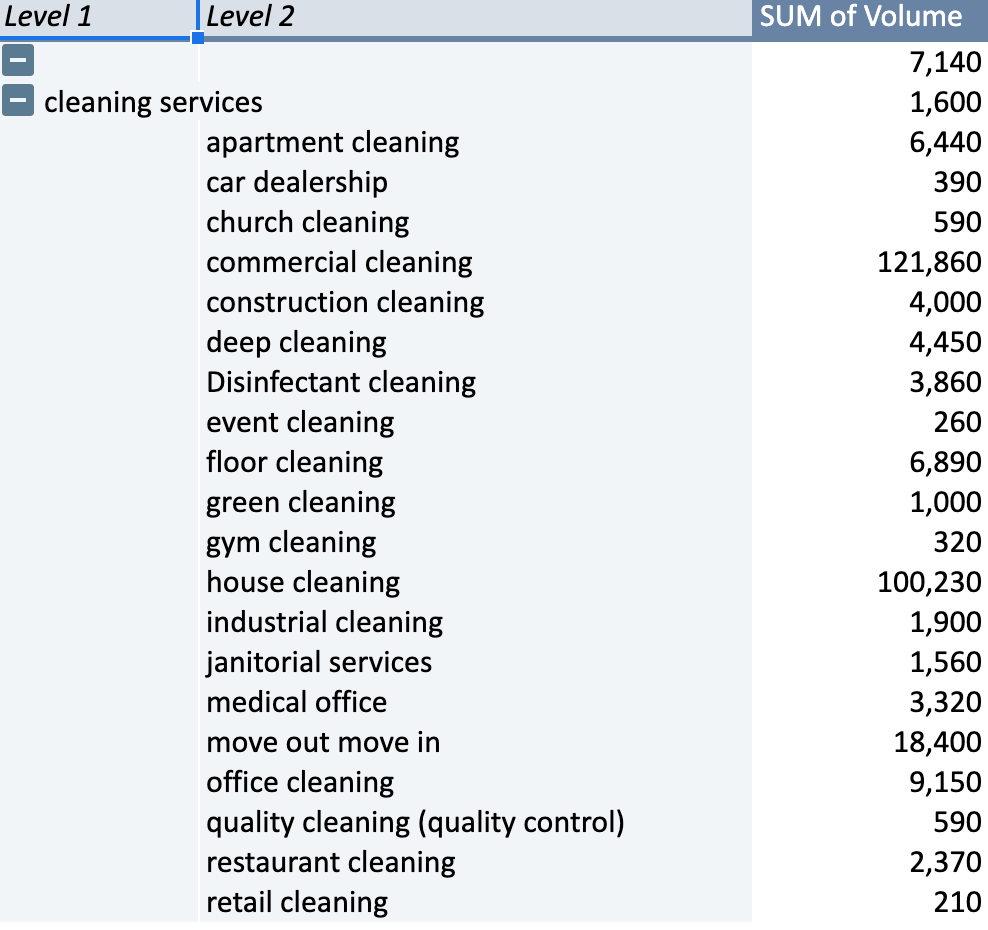 Create the content that answers the popular search terms
Now that you know which pages to include on the website and which keyword each page should be focusing on, it's time to start writing the content.
On-Page SEO Optimization
To improve search ranking for you website's content there are a few on-page search engine optimization elements that you need to work on.
Length and titles
Images and alt tags
Videos with "keyword mention" in the narrative
SEO Title & Meta Description
Length & Titles
A page in general need about 1,500 words of good structured content that contains related words that relate to the main keyword for that page. The length enables search engines to better understand what the topic of the pages is and what search term to rank it for.
Images Alt Tags
As search engines can not read images, they rely on the image alt tag, so it is important to add relevant image alt tags to your images, so that it supports the overall ranking for the main keyword. Empty image alt tags means that the image is not enhancing the content and rating of the page.
Videos
As Google is able to make transcripts of "english" videos, that means a video on a "floor cleaning" page, that includes the keyword, will help the search rankings. Videos without voice will have limited, if any, impact on ranking of the page, so always include a voice track on your videos, which includes the main keyword in the introduction.
SEO Title & Meta Description
"Best Rated Office Cleaning Services".
The title should include the keyword ("office cleaning services"), you can then add to that, to make it more desirable to click, and end with your Brand name.
Your meta description should be slightly more descriptive e.g.:
"We provide professional office cleaning services for businesses in [city] and [city]. Locally owned and operated .
When you select the keyword for your page Title and Meta Description, make sure you pick ONE and don't use it on other page titles and meta description. Search engines will be "confused" as to which of your pages they should show to people who search for "office cleaning services" if there is more than one.
You can read a step by step guide created by Yoast here.
Home Page
In general the home page should not be optimized for any keyword. In practice the home page will often rank for your brand name, which is great. The home page you can use for communicating anything you want but consider it a "distribution" page, where you help the visitor find what they are looking for, fast.
About Page
This page should be optimized for you brand name, but as this page may be the fist page the visitor sees when looking for you online, you should explain that you are e.g. a "cleaning company" and provide an explanation of the differentiators and the services you provide.
A video is great as an introduction, as well as images of key people, so that the visitor connects with you, rather than a collection of stock images.
Cleaning Services Pages
In each local area there will be variations of services (local search terms) e.g.
"commercial cleaning business" vs "dc commercial cleaning business"
"commercial cleaning" vs "commercial cleaning ny"
So if your "commercial cleaning services" page is optimized for that keyword, it will have a positive effect to show the "Areas We Serve" on that page, in the form of a Google map AND a list of cities you serve, like "Washington DC", "New York City" etc. This helps search engines that this page is relevant for variations of the keyword that includes those "city names".
Do not catch a case of shiny-obeject-syndrome and stuff any keyword that might relate to the service page you are creating. Pick ONE and create the best service page description, images, and video available in your local area. Your content need to be better in order to rank higher.
Google Core Web Vitals (page load speed)
As with anything SEO, it's not written anywhere how important page load speed is for SEO ranking. But as Google ranks content according to user experience in a mobile first world, it's fair to assume that it has importance. This is supported by research done by various SEO experts like Brian Dean at Backlinko.
I will not go into detail in the article on Core Web Vitals as this is a topic on its own. In brief you need to consider which website platform you are using, the hosting platform, and the amount of bling-bling you put on your website.
We recommend using WordPress, specifically GeneratePress and hosting on a fast website hosting platform like Kinsta.
To further increase page load speed we have great experience with WP Rocket and Imagify.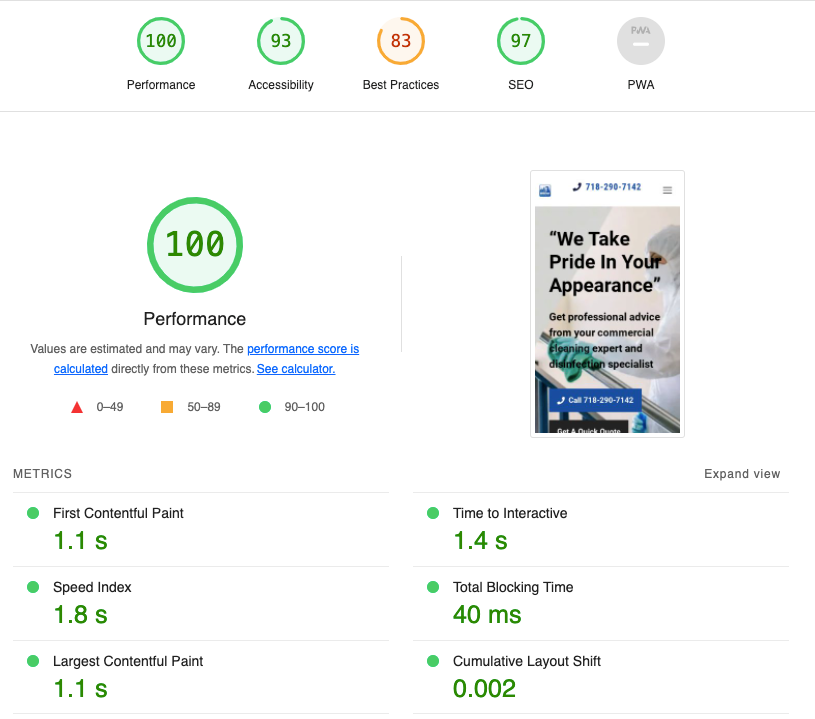 Local SEO for Cleaning Company
Local SEO for cleaning company, means that you have optimized your company and services pages for local keywords, AND optimized your online business profiles on
Google My Business page
YouTube
Twitter
LinkedIn business page
Facebook business page
Pinterest, etc.
Optimizing you online cleaning business profiles, means they all have the exact business information, NAP, on every profile, which is essential for local cleaning companies and their local SEO success.
What is NAP?
NAP (Name, Address, Phone) is what search engines use to understand that your website and other online profiles are connected, so when people search for your brand name, the content from your Facebook, LinkedIn, YouTube etc. will show up in the search result. Looks massively impressive.
Add NAP To Your Website
The NAME, ADDRESS, PHONE also needs to be on you website, as this is how Google associates your website with your GMB profile, Facebook business page, etc. Very important.
Provide links in the footer to you main online profiles like Twitter, LinkedIn, Facebook, and YouTube, so users and Google understands that they all belong to you.
Google My Business & BING Places
Creating your BING and Google My Business page is essential for a local business if you don't have one, now is a good time to create one.
Hint: If you create your business profile on GMB first, then you can "import" it to Bing places, and "syncromize" it with GMB.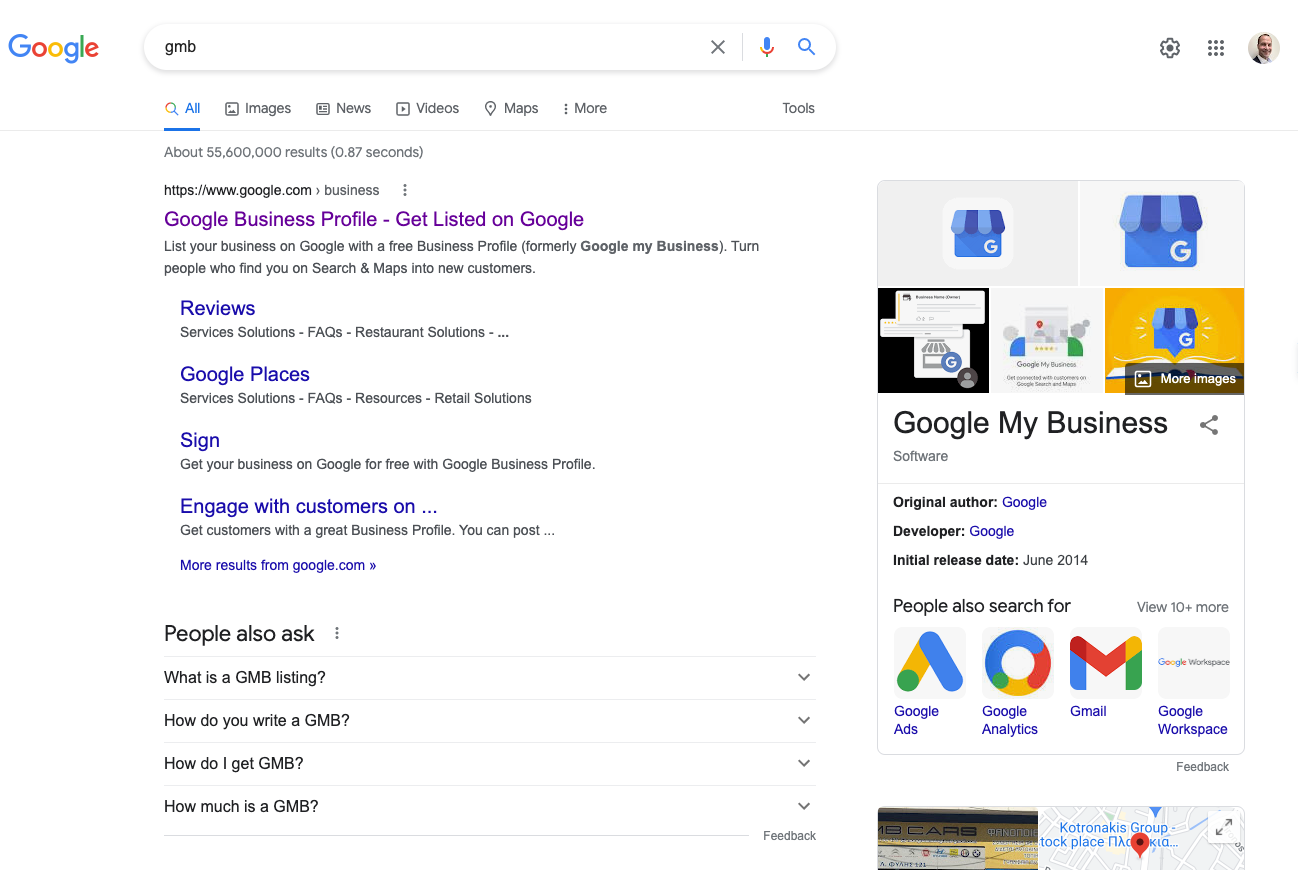 Now, your GMB has your Business NAME, ADDRESS, and PHONE (NAP) which is the I the footer of you website you should have Name, Address, Phone (NAP). The NAP should be exactly the same on the website as on your other online business profiles.
Customer Reviews
Collecting customer review for your service is essential for how your GMB profile ranks for various keywords, and dependent on how your website ranks for those keywords. So the better your website ranks for "floor cleaning", "janitorial services" etc. and the more reviews you have, the more often your GMB profile will show as Top-3 among local businesses.
Create your cleaning business profile in online business directories
A link to your website is a positive "vote" on you website. The specific links and amount of backlinks, from which websites, is debatable, but top ranking websites have a lot in common, and one of them is a lot of inbound links.
There are a few services available that will help you create you online business profiles for a fee. It is well worth doing, as you will pull you hair out of frustration if you start doing it yourself. It is simply not worth your time compared to the cost of signing up for a service like TheHoth, Moz, or similar.
There are a few ways to create inbound links to your website, such as
Great content that people share
Guest posting
Content distribution by outreach
Conclusion
There are 2 million cleaning companies in the US, which means a lot of websites. If you consider the large national cleaning franchises that pour hundreds of thousands of dollars into SEO and paid advertising in search (AdWords etc), the competition is fairly tough.
Getting to the top of search results in your local area will require that you create great content, structured right, and keep producing great content. It will take 3, 6, 9, 12 months before you see traffic coming from the effort, so be persistent and patient.
LeadPillar is a lead generation agency, so take it with a grain of salt, but your time is not well spend learning SEO when you are building and running a cleaning business, the market is simply too competitive, and it will take time before you learn the ropes of SEO.
Get 1-3 NEW Commercial Cleaning Clients
How to find, reach, and connect with your Perfect-Fit-Prospects to grow your commercial cleaning company.