5-Step Guide To Start Your B2B Lead Generation
This is a guide to help you get started with B2B lead generation and create your first leads in 5 simple steps, in 2 weeks or less. The goal is to prove to yourself that it works, get excited, and continue the journey towards building your unbeatable b2b lead generation engine.
Building your b2b lead generation engine for your IT service or professional services business is a never-ending goal that you will keep perfecting and expanding without an end date.
So, if you are a B2B service or product company, and just getting started with your B2B Lead Generation or Account Based Marketing, read on.
The 5 simple steps
Define Your Ideal Customer Profile & Buyer
Create A Desirable Piece Of Content
Create a downloadable piece of content – "Offer A Bribe"
Create A Nurturing Email Sequence
Reach Your Ideal Customer Profiles / Prospects
What You Will Need For This Campaign
A CRM system with marketing automation (Free Hubspot CRM, Salesforce/MarketingCloud, ActiveCampaign, SharpSpring, etc.)
A LinkedIn Ads Manager Account
Access to create content on your website
Download Guide
5 Simple Steps To Your First Leads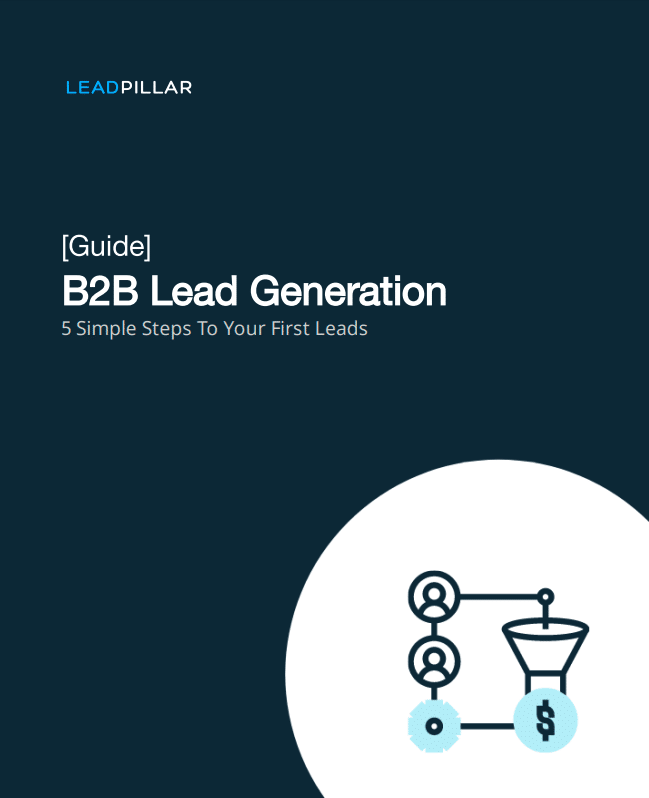 #1 Define Your Ideal Customer Profile & Prospect
ICP means "Ideal Customer Profile". You may be familiar with other terms like "dream customer", and "avatar", and they all mean the same thing. Getting this wrong could make your lead generation fall apart. So when you start out with lead generation, ask yourself, "if you had to focus on ONE Ideal Customer Profile (ICP) to reach your growth target, which would it be?
The "biggest struggles", "the content", "the solution", "how to reach the ICP" is all based on knowing who the ICP is.
What do we use the ICP for?
To identify and reach more of the kind of customers you want more of.
Create content that speaks to their problems and how to solve them.
To create the "Audience" for your targeted LinkedIn ads.
To create a segment in your CRM system that groups all the prospects that fit your ICP profile, so you can nurture them, and Sales Reps can identify them.
The following example will show you how to break down the ICP for an IT-service company:
After research and consideration, this company's Ideal Customer Profile (ICP) is one that was pleased with their service, had been a customer for more than 5 years, consumed 5 of their major services (a good fit to solve their problem), above-average profit margin of +20%. These customers generated more than 500,000 in revenue per year at +20% profit.
Data Point
Example
My Ideal Customer Profile
Firmographics
Industry
CPA Firm
Annual Revenue
100 Mill +
Employee headcount —
companywide or within key departments
500
Years in Business
5
Annual growth
+5%
Geography
Europe or North America
Number of locations
5+
Technology they use
Current ICP Customer Data
Customer Industry / Niche
CPA Firm
Sales Cycle
From 1st contact to 1st sale
6 months
Services consumed
Cloud Servers
Virtual Telephones
Cyber Security
Backup Services
Onsite technicians
Years as customer
5+
Annual Revenue From Customer
+200,000
IMPORTANT: The ICP used for this campaign should only be for one industry or segment. It's not a forever decision, but a decision for building your lead generation model that can deliver the growth you are looking for.
#2 Create A Desirable Piece Of Content
A relevant and desirable piece of content for your ICP is something that helps them solve one of their major problems that your company helps solve.
You are the expert here as you are providing the solution and have experience from many customer cases. Share your experience on a blog post where you show how to solve one of their biggest problems.
When you are first getting started, we recommend you focus on only one problem.
Identify Your ICP's Biggest Struggle
In the following example, you will see all the necessary information to create your first piece of content.
Imagine the key decision-maker "Thomas" at your ICP, the complaints he has, the frustrations he experiences. That is what we need to understand so that we can create the content that can "teach-to-solve" Thomas's frustrations.
So, ask a few customers, what is their single biggest frustration is that you have helped solve.
EXAMPLE
"Thomas" is the IT support manager of a large CPA Firm with 5 different offices. He is responsible for providing home workstations for the company's bookkeepers and CPAs and struggling with providing full access to the company's data and software applications for employees working from home. This causes employees to come into the office for updates of specific applications and the need to be in the office for accessing specific data. This is inefficient and means loss of billable hours and revenue.
Teach-To-Solve (Your Article)
Create content that will help "Thomas" solve the frustration that prevents him from reaching the situation that he is looking for. Let's call this education-based marketing, and our way to help Thomas achieve his goal, which in turn exhibit our expertise and a place for Thomas to look for solutions.
Below we have created a summary of the valuable piece of content for customers of an IT-service company.
Example of Article (outline)
TITLE of Article:
How To Create Secure Home Workstations for Your Employees [ICP name]
Headline – Why ICP companies need secure home workstations
You want to show your ideal customers and prospects that you understand their situation (problem) and the different big impacts it has on their company, so they can relate, and understand the solution you're about to teach them.
Headline – What a home workstation needs to provide for ICP employees
In this example, the ICP's are greatly concerned about security, data, systems, and file servers that employees need to access from home, outside their network.
The ICP will resonate with the insight and checklist you provided by describing the types of software and file servers the employees of different departments need to access from home.
Company vs personal devices (computers and phones)
Data encryption
CRM
Headline – The challenges
Secure connection from home via VPN
Single Sign-on outside the local network
Headline – How to set up home workstations
Your opportunity to shine. Create a short description of what a solution looks like that solves the aforementioned challenges. The aim here is not to be exhaustive but cover the main challenges and enough that they get great value out of it, and a reason to contact you for further details.
Your prospect is not creating home workstations every week of every year, so when they do, they will need to meet and discuss internally what needs to be done, and your checklist will be a phenomenal value add to their internal discussions.
Headline – What to Consider
Here you help direct the attention of your ICP to important things to consider, specific cases, and … "please contact or call us if you need guidance in one of these areas"
Download the guide for creating home workstations in [ICP industry/niche]
#3 Create a downloadable piece of content – "Offer A Bribe"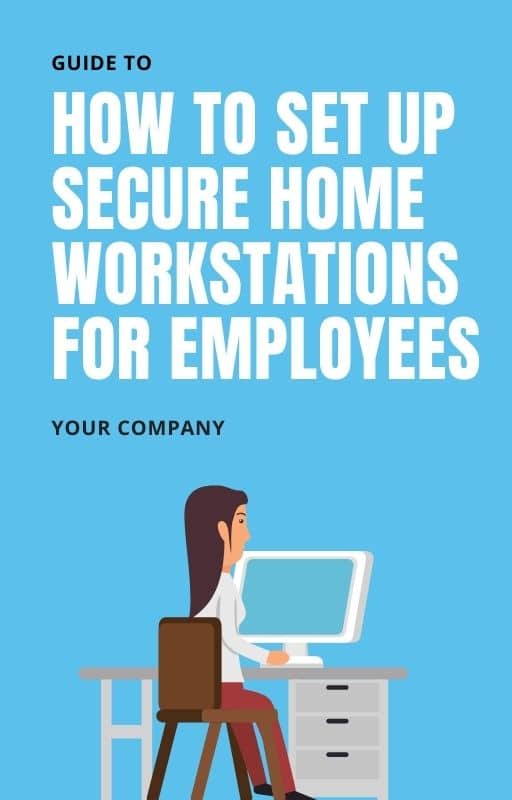 This is the guide and solution that "Thomas" is looking for, and we will offer it as a "bribe" for receiving "Thomas" contact information. He needs the downloadable guide for creating his plan and feels confident that he has covered all the bases, and for sharing with fellow decision-makers to align internally. It might even become part of an internal presentation.
Have you ever given your contact information away in exchange for downloading a piece of content that did not at all deliver on your expectations? Light and limp content produced to trick you into giving your contact info is not a good strategy.
DON'T DO THAT, it will kill you brand and create poor expectations for ALL you content.
Keep it brief and actionable …
The "lead magnet" or downloadable content, can be a checklist, guide, or case study but it needs to be "brief" and "actionable", not a long-winded eBook of 20+ pages.
Write for you …
Write in plain language and make it desirable to read, so that you would want to read it.
Types Of Downloadable Content That Converts
Challenges Your ICP Encounter
How To Achieve Results
Opinion Pieces
Product or Service Reviews
Check Lists / Guides / References
#4 Create An Automated Follow Up Email Sequence
What is an automated email sequence?
An automated email sequence is a series of emails sent to the contact, automatically using a marketing automation software based on an event, a time delay, or an action being fulfilled. The marketing automation software could be Hubspot CRM, Active Campaign, SharpSpring, Salesforce Marketing Cloud / Pardot, or similar tools.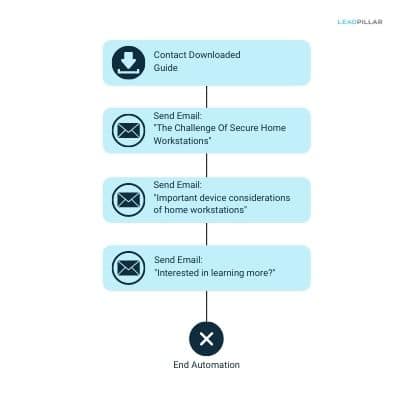 Automated email sequence:
Your ICP may have downloaded your guide or insight report, but not got around to reading it yet, so send them a short automated email sequence with a very short summary of step 1 and reference to the guide.
At the end of the email sequence, your can lead them to additional resources and offer to help and how to contact you.
The automated emails will have the email signature and email address of the account owner/sales rep and help start a personal relationship.
Remember to include a link to the download again in case they can't find the download, it has happened to me more than once, that I can't find the email or where I saved the download.
DOWNLOAD the Automated Email Sequence Examples
We have provided an automated email sequence specific for this example in the downloadable guide.
Set Up The Automated Email Sequence In Your Marketing Automation Tool
For both tracking and having a single-customer-view of your prospect's website and email engagement you will need a tool like Hubspot, Active Campaign, SharpSpring, or Salesforce/Marketing Cloud/Pardot. For b2b lead generation, tools like MailChimp, Drip, and others will not do, as they do not collect the same data and can not transfer the data needed, without additional integration, to your CRM system.
#5 Use LinkedIn To Reach Your New ICPs & Prospects
Now your great content and guide are ready for launch. It's time to reach out to new ICPs and existing prospects … the ones that fit your ICP, the segment that your guide will resonate with.
GOAL – Prove that you are able to reach your ICP effectively and at scale.
Validate the contacts created from the camp in your CRM system and calculate the Cost Per Lead (CPL). The CPL you find by dividing your "ICP contacts created" with your LinkedIn ads spend
Create Your Target List Of ICPs
With your new Ideal Customer Profile from Step #1, you use that to find more that looks like them. We recommend your first campaign to use LinkedIn Sales Navigator. Once you have signed up for LinkedIn Sales Navigator, you will immediately be able to search for companies using your filter from step #1. Review them and pick the ones that satisfy your criteria.
Here are a few alternatives to find more prospects that fit your ICP:
Use LinkedIn Sales Navigator to create your list of ICPs
This is by far the easiest way to find your list of ICPs.

LinkedIn Sales Navigator is a paid service on LinkedIn that allows you to search for one or many companies based on search criteria, as the ones used in Step #1 of this guide. You can then select one or more companies and add them to your list of ICP. This list can be added as a "custom audience" in LinkedIn Ads Manager, ready for your targeted ads campaign.

Although LinkedIn has hundreds og millions of users and the largest list of companies, the list is not complete but it should be plenty to reach your growth targets.
Upload your own list of ICPs to LinkedIn Ads Manager
There are different tools available to search and find specific companies that fit your ICP criteria used in Step #1 of this guide, such as BuildWith, CrunchBase, Zoominfo, ClearBit etc.

Common for these tools is that while they have great company information, they do not have an updated list of employees, managers, and executives, with titles and departments, AND more importantly, they only provide the data and not a platform to reach them, like LinkedIn. So if you use one of these lead identification tools, you can export the list of ICP companies and upload them to LinkedIn Ads Manager, and it works just perfect.

Only one "but" here. Not every company on the list you have collected with one of the before mentioned tools, is guaranteed to have a linkedin page and you will therefore not be able to reach them via LinkedIn.
LinkedIn targeted ads to a LinkedIn segment via LinkedIn Ads Manager
The classic way of defining a target segment based on firmographics, demographics, and geographic. In LinkedIn Ads Manager you can create your audience by using the filters in Step #1 of this guide. You will not be able to see the individual companies in a search result, like you can when using LinkedIn Sales Navigator.
We do not recommend using this options unless you are targeting a niche where you consider most of the companies as ICPs.
Checklist for launching your LinkedIn Ad Campaign
We have created a detailed step-by-step guide for how to set up your LinkedIn Ads and how to upload your ICP list for your LinkedIn ad campaign.
Checklist:
Set your goal for the amount of new leads for your first campaign
Create Your LinkedIn Ad Manager Account here
Install LinkedIn Insight Tag On Your Website
Create Your Ad Campaign
Create Your Target Audience
Select Ad Format
Select Your Ad Placement
Selecting Your Ad Spend Budget
Conversion Tracking
Build your LinkedIn Ad
We suggest that you follow the guide for setting up LinkedIn Ads to reach your new ICP audience, here below:
Don't panic if you haven't created LinkedIn Ads before, we have a step-by-step guide for you here
LinkedIn Is The Best Platform To Reach A ICP Target List
We use LinkedIn alot for ourselves and our clients in the United States and Europe, to reach their ICP. LinkedIn has the best data points to find your ICP, and the best platform to target specific companies.
There are a lot of different tools that will provide you with company-specific firmographics, technology they use, geography, etc. but without a platform like LinkedIn, with up to date company website link, employee list, and a way to contact them, you will not be able to get your content in front of them.
LinkedIn is also among the best platforms to get engagement on business-related topics, and it is still possible to build a following with organic free content using the right #hashtags.
Other platforms can work as well, dependent on your ICP niche, but for this campaign, we will focus on LinkedIn.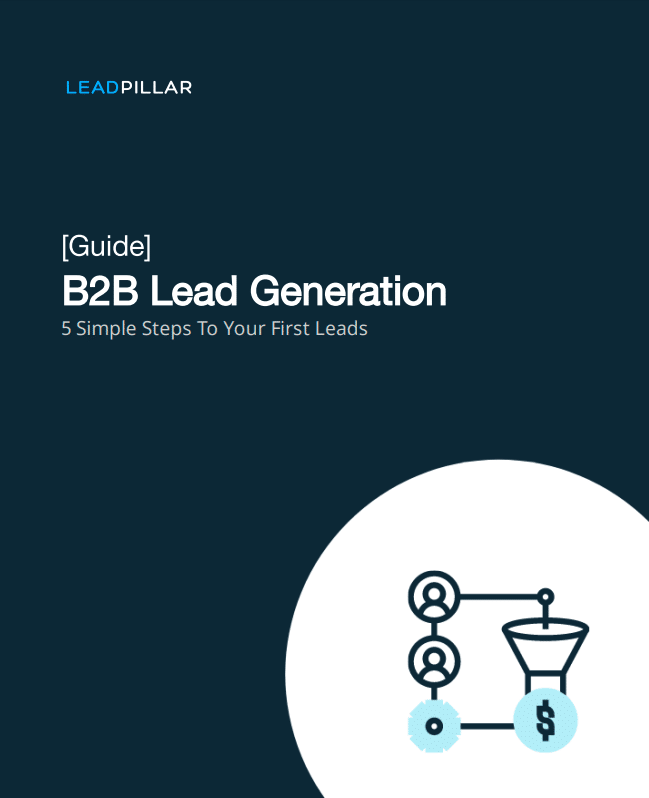 DOWNLOAD this guide
5 SIMPLE STEPS TO CREATE YOUR FIRST B2B LEADS
Now It's Your Turn
Commit to getting started with your B2B lead generation, find out which type of customers you want more of (Ideal Customer Profile), understand their 5 biggest struggles, and create your first valuable piece of content that "Teach-To-Solve" their first struggle.
Got a question or need some guidance?
Send us a message or schedule a call here >>, we would be happy to help you out and guide you.